Welcome to the learning platform of the online course on Partnership Brokering!
You can consider this as your "backpack" for your journey with us. Here you can find everything you need for the duration of the course. Please scroll down for:
Course objectives
Logistics of the course
Session dates and times
Zoom links to the sessions
The training groups
Learning Groups
Forum
Certificate of Completion
To get you going before the course starts, we recommend that you read the Brokering Better Partnerships Handbook page 4-7 and complete the Pre-Course Module, so that we can set off from a common ground. Also Check out the course guide. You can find pre-course information and the course guide in the top two buttons on the menu on the right.
Each session will require specific preparation and post-webinar work, and this is outlined in the menu on the right-hand side.
You will see menu buttons for each of the sessions. There we will point you to relevant materials (to read, to watch, to reflect on or to do) for each session and we will upload slides and other materials we used during the sessions there.
So, let's get started! Proceed to pre-course material and session 1.
Session dates and times
GROUP PB4
All sessions for Group PB4 start at 14:00 CEST / 12:00 UTC:
GROUP PB5
All sessions for Group PB5 start at 9:00 CEST / 7:00 UTC:
Zoom links for all sessions:
Zoom link PB4 (time 14.00-17.00 CEST)
https://us02web.zoom.us/j/86438210219?pwd=SnFjMVlLc1l1a0J3a2UwMmtpdGdUQT09
Meeting ID: 864 3821 0219
Passcode: 390339
Zoom link PB5 (time 09.00-12.00 CEST)
https://us02web.zoom.us/j/87669284923?pwd=TmJtWDBWVFBudEhxWWFZRU1BWFpFQT09
Meeting ID: 876 6928 4923
Passcode: 774150

The training groups:
PB4 (time 14.00-17.00 CEST):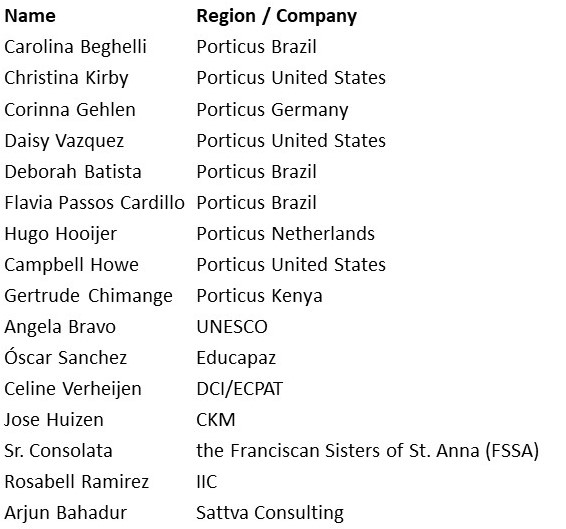 PB5 (time 09.00-12.00 CEST):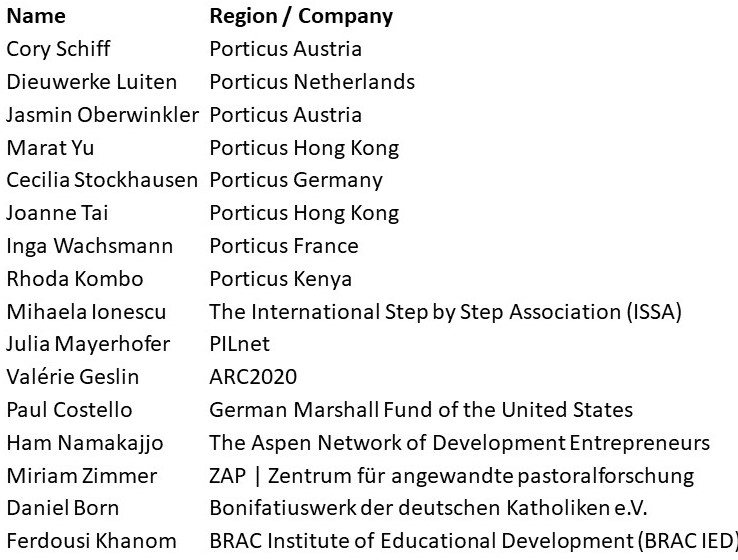 Forum
We would like to draw your attention to the leaning Forum (linked at the bottom of the right hand menu). This is private for the participants of PB4 and PB5, and us two, to be able to share, explore and probe with each other in between the sessions and between the two session groups (PB4 & PB5). We encourage you to visit this regularly, post ideas/questions/comments, and respond to those of others, so as to create an additional vibrant learning opportunity for all. Learning groups can also share their insights and questions there. This will help cross learning between all learning groups.
Certificate of Completion
All participants who attend and actively participate in the whole course will receive a Certificate of Completion. Once participants have successfully completed Brokering Partnerships – an online course, they may proceed to one of the Advanced Practice options. More information about these options will be given during the course.
For those who have to miss max. 1 session (this excludes the full day session*!) for good reasons, the trainers have the discretion to invite them to submit further work to show that they have reflected on the missed material. Anyone who misses more than 1 sessions will be able to complete the course but will not be awarded a certificate and will need to apply for bridging requirements before they will be eligible to apply for any Advanced Practice course.
If you for an unexpected reason need to miss a (part of a) session, please reach out to the trainers and notify Bianca from Porticus.
*attending the full day session is a requirement for this course.